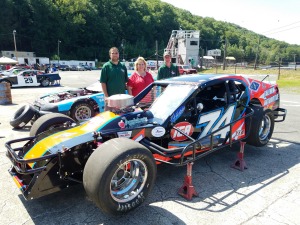 The 27th annual Funfest Car Show hits Hazleton's main thoroughfare when car enthusiasts show off their prized wheels along Broad Street on Saturday, Sept. 10 from noon to 3 p.m.
All classic cars, motorcycles and trucks are eligible for the event. All vehicles must be street legal, licensed and insured.

In addition to the traditional classic car show, race car drivers from Evergreen Raceway will be on hand all day on Saturday with as many as five cars, one each from the modified, street stock, factory stock, four cylinder and kids wheel divisions. The cars will be on display between Church and Laurel streets and the public will be allowed to sit in the cars and take pictures.
The car show will maintain the popular format that was developed several years ago. A panel of judges will select the twenty best cars and each owner will receive a trophy. Although there are no classes, cars will be rated on overall appearance or presentation based on five categories typically evaluated in car shows. The judges will also select the "Best in Show" and a special trophy will be presented to the winner of that category. Prizes will be given away at the conclusion of the car show Saturday evening but entrants must be present to win.