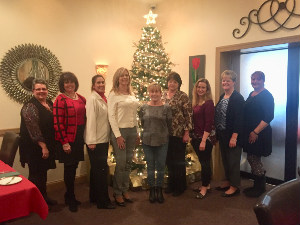 The Greater Hazleton Chamber of Commerce Women's Networking Holiday Committee announces its Holiday Mixer for Wednesday, December 13th at Four Blooms Restaurant from 5pm to 8 pm.
MMI preparatory School is the sponsor of this year's Women Networking Holiday Social which is being hosted at the new Four Blooms Restaurant in Drums. Four Blooms opened its doors in October of this year and they are excited about displaying the talents of their Chef with tasty complimentary hors d' oeuvres. A cash bar will be provided and includes a holiday themed signature drink for your enjoyment. The Women's Holiday mixer gives everyone a great opportunity to mix, mingle and network during the holiday season, put out information about their business at the Business Resource Table, as well as take chances on some tricky tray baskets provided by members of the Women's networking committee, as well as a 50/50 raffle for those in attendance. Donna Barna and the team at Billig & Helmes Insurance will provide each guest a combative favor for the event. There is a small registration fee to attend the social, $5 chamber member rate and $7 non-chamber member rate. Proceeds will benefit the Women's Empowerment Grant Fund.
A highlight of the Women's Holiday Networking Mixer is the slide presentation of participants in the 2017 Holiday Tree Decorating contest. Volunteer Judges were out in whisked around in a van provided by Motor Transportation to see the lovely entries. The evening includes the announcement of the winners and presentation of fantastic prizes and sponsors for this event. Prizes include; " 4- skip" one month digital billboard advertising package from the Printmark Group, Two one month personal training packages with Brad from FYZICAL, a 3 month fitness membership to Lehigh Valley Health Network Fitness Center, a 1/3 ad placed in Panorama Magazine, and 5 complimentary Women's Networking Luncheons offered by the Greater Hazelton Chamber of Commerce.
Please register for the social on the chamber's online calendar at www.hazletonchamber.org or email or call Mary at the Chamber office at , 455-1509 ext. 10. We look forward to seeing you on the 13th.
The Chamber's Women Networking Holiday Mixer & Decorating Contest sponsors gathered to promote the upcoming Holiday Mixer at Four Blooms Restaurant. Included in the picture: Patty Collum, Panorama; Donna Barna, Billig & Helmes, Liz Tolan, Printmark Group, Lisa-Marie Halecky LVHN- Hazleton, Lori van Hoekelen, Four Blooms Owner, Susie Scarcella, Four Blooms General Manager, Jessica Benjamin, Four Blooms Bar Manager, Kim McNulty, MMI Prepartory School, mixer sponsor, Lori Bowser, Four Blooms. Missing from the photo are: Anne Frey, DBI Services, Kathy Oh, FYZICAL Therapy & Balance Center and Lori Dotter Yanuzzi of Motor Transportation.