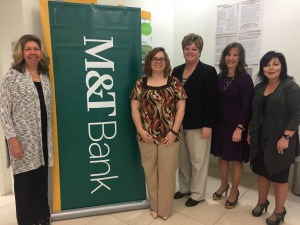 The Greater Hazleton Chamber of Commerce Women's Networking Committee is holding their final woman's networking luncheon program on Tuesday, November 29th from 12 noon to 1 pm at Top of the 80's Restaurant, located at 3 Top of the 80's Road in Hazleton. The event is being sponsored by M&T Bank and is open to all women in Greater Hazleton.
The luncheon is the sixth and final in a series of luncheon programs for 2016. The luncheons were held every other month. The series is scheduled to being again on January 31st, 2017. The program begins promptly at 12 noon and includes a buffet style lunch. The guest speaker is Cathy Kutchi, from Carmen's Bakery & Deli and Carmen's Country Inn & Gardens. She will be presenting on How to Prepare a Holiday Tablescape. She will provide a hands-on demonstration on how to prepare a beautiful holiday tablescape including helpful hints, inexpensive ideas and quick tips for the busy woman. She will then be donating the centerpiece and it will be raffled off at the event, which proceeds benefiting the Chamber's Women's Empowerment Grant Fund.
A 50/50 raffle will take place and dooprize drawings including, a free lunch for the next program, the opportunity to give an introduction of your business and other prizes. Women are encouraged to bring along promotional items, such as business cards, brochures, giveaways, etc. to display on our business resource table.
For more details on this event, other women's networking events, such as their 12th annual holiday decorating contest and women's holiday social, as well as all upcoming Chamber and community events, visit the Chamber' online calendar at hazletonchamber.org.
The cost to attend is $18.00 for Chamber members and $25.00 for non Chamber members and the fee will be collected at the door. Proceeds will benefit the Women's Empowerment Grant Fund. Reservations for the luncheon are required by registering online, contacting Julie at the Chamber office at 455-1509, or emailing .
Pictured in the photo from the left is Joan Buffington and Carolyn Boone from M&T Bank, event sponsor. And Chamber women's luncheon committee members, Kim McNulty, MMI Preparatory School; Nina Bonus, DBi Services and Cathy Kutchi, Carmen's Bakery & Deli and Carmen's Country Inn & Gardens, Cathy is also the event speaker.