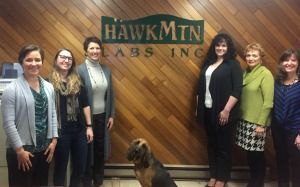 The Greater Hazleton Chamber of Commerce Women's Networking Committee is holding their first woman's networking luncheon program for 2017 on Tuesday, January 31st from 12 noon to 1 pm at Bonanza Family Restaurant located on Route 93 in Hazle Township. The event is being sponsored by Hawk Mtn Labs and it is open for any woman to attend.
"The woman's networking committee is very excited to continue to offer our luncheon programs for 2017. We will continue to keep our topics up to date and related to women and business." explains Nina Bonus, volunteer Chair of the Greater Hazleton Chamber of Commerce Women's Networking Luncheon Committee.
The program will begin promptly at 12 noon and will include a buffet style lunch. Our guest speaker will be Dr. Rachel V. Leskosky, Family Chiropractor at Life Expression Wellness Center presenting Chicken Soup & Chiropractic.
Dr. Leskosky is inviting women to sit back, relax, and have fun as she shares how to best enhance your health-with chicken soup…of course! She will also serve some helpful "sips" for you and your best self in 2017. Her topic: Chiropractic and the role of the nervous system for your best health and best you in 2017 in a fun way inspired by the book by Maurice Sendak: Chicken Soup with Rice. Her key points include: 1. The importance of a healthy nervous system for a healthy you; 2. Helpful tips for new year's health resolution success and 3. Motivation to staying on track with your goals for the new year as a business person.
Dooprize drawings including, a free lunch for the next program and the opportunity to give an introduction of your business at the event will be drawn. Women are encouraged to bring along promotional items, such as business cards, brochures, giveaways, etc. to display on our business resource table.
Additional bi-monthly luncheon programs for the remainder of the year have been set for Tuesdays, March 28th; May 23rd; July 25th, September 26th; and November 28th.
The cost to attend the luncheon program is $18.00 for Chamber members and $25.00 for non-Chamber members and the fee will be collected at the door. Proceeds will benefit the Women's Empowerment Grant Fund. Reservations are required by registering online, contacting Julie at the Chamber office at 455-1509, or emailing .
Pictured in the photo from the left is our guest speaker, Dr. Rachel V. Leskosky, Family Chiropractor from Life Expressions Wellness Center; Sarah Gittleman and De Ann Miller, both from Hawk Mtn Labs, event sponsor. De Ann is also the Chamber Women's Networking Committee Chair; followed by her dog and the Hawk Mtn Lab mascot, Chevy; and Chamber Women's Networking Committee Members, Ruth Lyons from Kelly Services and Anne Frey and Nina Bonus from DBi Services. Nina is also the Chamber Women's Luncheon Committee Chair.