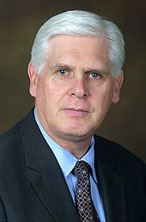 Kevin O'Donnell, president of Greater Hazleton CAN DO, the area's economic/industrial corporation, will address the business community on Wednesday, March 22nd at the Greater Hazleton Chamber of Commerce Red Carpet Breakfast program. He will discuss the history of the organization as they've recently celebrated their 60th anniversary. Mr. O'Donnell will also provide a look into the future of economical and industrial development in the greater Hazleton area. Attendees will also have the opportunity for a question and answer session at the end of his presentation. The breakfast program is sponsored by Luzerne Bank, and will take place at Top of the 80's, Hazleton.
The program will begin at 7:45 a.m. and conclude at 9:00 a.m. A full breakfast will be served at the upcoming breakfast program for a $20 fee for chamber members and a $25 fee for non-chamber members. Chamber members and guests who would like to attend should contact the chamber office at 570-455-1509 or register online at hazletonchamber.org by Friday, March 17th.
The Red Carpet programs are conducted monthly by the Greater Hazleton Chamber of Commerce as a way of providing information to the local business community and offers new and expanded business networking opportunities. Those in attendance will also be introduced to the services that the event sponsor, Luzerne Bank offers prior to Mr. O'Donnell's presentation. Attendees are encouraged to participate in the business card drop for a chance to win a free breakfast.