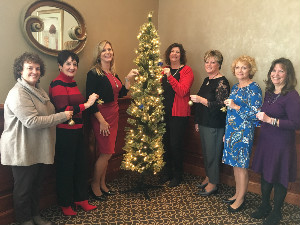 The Greater Hazleton Chamber of Commerce Women's Networking Holiday Decorating Contest committee has announced their 13th Annual Holiday Decorating Contest with a new twist for 2017.
The focus of the contest this year will be just one holiday tree. The evergreen fir tree has traditionally been used to celebrate winter festivals (pagan and Christian) for thousands of years. Pagans used branches of it to decorate their homes during the winter solstice, as it made them think of the spring to come. The Romans used Fir Trees to decorate their temples at the festival of Saturnalia. Christians use it as a sign of everlasting life with God. Anne Frey of DBI Services, and decorating committee chair noted " We decided that focusing on just one tree for the decorating contest this year would level the field from small to large business as well as unleash the creativity of our members". "Our volunteer judges enjoy the process and hope to encourage more businesses to join in the fun.", stated Anne.
A reminder that the Holiday Decorating Contest is open to all Chamber member businesses. The Committee will be judging your Holiday tree in whatever creative form and fashion you chose. Judges from the Women's Networking Committee will visit each entry on Tuesday, December 5th from noon to 5:30 pm. Judging categories include but are not limited to: judges choice award, most inviting, most creative, most unusual, best themed tree. Prizes include; one-month free digital billboard advertising package on Route 93 & 309 from The Printmark Group ($600 value); 1 month personal training with Brad ( $400 value ) at FYZICAL; 3 month Fitness Membership at the Health & Wellness Center; 1/3 page ad in Panorama Magazine ($275 value) and Up to 5 complimentary Women's Networking Luncheon Passes for your decorating group.
A business or employee of a chamber-member business must submit an entry to be included. Deadline to register your business is Thursday, November 30th . Registration forms are available on the chamber's online calendar at www.hazletonchamber.org or email or call Mary at the Chamber office at , 455-1509 ext. 101 for a registration form.
All participants and winners will then be recognized at the annual Women's Holiday Social which will take place on Wednesday, December 13th. This event is being hosted and sponsored by MMI Preparatory School and hosted at Four Blooms Restaurant located at 668 North Hunter Highway in Drums, PA. The event will feature complimentary hors d' oeuvres and a cash bar, a business resource table, where women are asked to bring your business cards & brochures to display, tricky trays, a 50/50 raffle and door prizes, a slideshow presentation of all participants, DJ entertainment and fun provided by Tony Pacelli. Holiday favors, sponsored by Billig-Helmes Insurance, for every attendee. There is a small registration fee to attend the social of $5 per chamber member or $7 for non chamber members. Proceeds will benefit the Women's Empowerment Grant Fund.
Reservations are required for the mixer by either registering online at hazletonchamber.org or by contacting the Chamber at 455-1509, ext 101 or
Pictured in the photo are the Chamber's Women Networking Holiday Committee members including from the left: Denise Corcoran, ARCIL; AJ Onuschak, Top of the 80's Restaurant; Lisa Marie Halecky, Lehigh Valley Health Network - Hazleton; Teri Pecora, Hazleton Auto Mall; Kim McNulty, MMI Preparatory School; Anne Frey-Committee Chair, DBi Services and Nina Bonus, DBI Services.